It's Tuesday! Which means I'm playing "What's on Jen's Phone"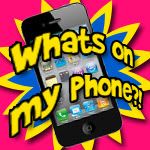 The guidelines.
1. spend the week looking for interesting, funny, cute, special, lovely, ugly, silly, crude (okay maybe not crude), or other worthy pictures. and by that it pretty much means anything.
2. when you find them, snap a shot with your phone.
3. then on tuesday, upload it into your blog!
I sucked as a parent. My 5 year old had to get a cavity filled. But the dentist said that she was one of the best patients he's ever had. She's my sweet child.





Took Arielle to the eye doctor, since she's been squinting. Turns out she's 20/20 in one eye, 20/25 in the other. So no glasses for another couple of years.







Wasted two hours of my life and watched Case 39. At least the sushi was good.
Jack was extra snuggly this week with his momma.
The two older girls spent the weekend at my parents house, so I had the weekend alone with two of my loves.
That involved a trip to some thrift stores, which tuckered out Little Miss.





My awesome Arielle got a new patch at Awana. Memorized 6 verses and ALL the books of the Bible. I thought it would take her another week or two, but nope! Proved me wrong.







When the older girls were at Awana, hubby and I went out for "coffee", otherwise known as ice cream. Jake let Ava have some, and apparently she thought he wasn't moving fast enough and offered her assistance.
So that was my week! How was yours? I also spent some time working on a new craft, which hopefully I can reveal in a couple of days!