***This giveaway has ended!****
I've been a bad blogger lately. Between my youngest's medical issues, and her first birthday party, I've been too tired/lazy/uninspired to create anything worth posting. To make it up to you, I have something awesome for you today. One of my sweet sponsors, Nik, is offering up a $15 credit to her Etsy shop!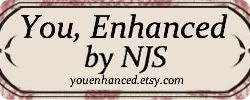 In her shop, you'll find super cute, adorable, affordable jewelry. I own the POW necklace, and it's one of my favorite pieces! I always get a ton of compliments on it when I wear it.
So you're asking yourself "Wow, what are some of Jen's favorite pieces in that shop?" Well, let me show ya!
I love how the jewelry is simple, adding just a touch of fun to your outfit without stealing the whole show! I'm not usually a fan of gold jewelry, but I would totally rock that bunny.
So, what, you want to enter and get your hands on something of your own? Here's how!
Required entry

: Tell me you're a follower (cause you have to be to win. All the cool people follow me, I'm just sayin') and if you are more of a bracelet or necklace wearer.
Want extra entries? Do ya? Do ya?
Go to You Enhanced and tell me what you'd spend your credit on. (+1 entry)
Heart her shop on etsy (+1 entry)
"like" me on FB (or tell me that you already do), there's a button on the right side of my blog (+1)
Blog/tweet/facebook this giveaway, leave me a link (+1 entry each)
Buy anything from her shop and let me know that you did (+10 entries)
There ya go! Super simple ways to enter! This giveaway will end next Friday night!