So here we are again. Time for Highs and Lows. Pretty simple. Share the highs and lows of your week.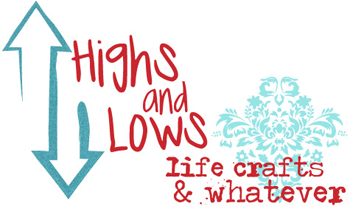 Had a fabulous time with a new friend. Julie blogs over at It's Sew Stinkin' Cute, and we found out that she lives about a half hour away from me. She showed me how to make cookies (from scratch, holla!) with royal icing. They turned out awesome. Of course they did, since a couple of hotties made them.
Julie, seriously. I heart her. She brought over all the cookie supplies, even bought the colors that would match the party, and fun extras like cookie glitter. Such a sweet chick! Plus, I've been picking her brain about different kinds of party food, and she gave me a ton of these to hold the food labels. Such a thoughtful gift.
Found some uh-maz-ing sponsors for my blog. They're chilling in my sidebar right now if you want to check them out. Super duper excited to introduce them to you in the coming weeks. And you should be super duper excited about discounts and giveaways coming your way!
Kohl's loves me. I got a 15% off coupon in the mail, with a $5 bonus gift card. Then I got a $10 "Thanks for putting up with our construction" gift card from them too. Hit them up today. Picked up these on clearance. Marked at $11, one pair left in my size. Didn't pay a dime, thanks to my gift cards! Plus got a shirt for both older girls, and a pair of capris for my Ava.
Had dinner at Chic-Fil-A last Tuesday with some moms I met at Vacation Bible School. We all got along really well, our kids all got along. Fun fun. Might do it again this Tuesday (kids eat free night).
I can't believe I forgot one of my highest highs. I'm finally back down to my pre-pregnancy weight! I was hanging out around 118 before Ava, then got up to 144, and hit 123 a month or two after I had her. Hung out at 123 for a long time, then got up to 128 somehow (darn you Coke and sea salt and vinegar chips!). I admit, I haven't been working out, just cutting down my portions and stopped buying Coke (which I was drinking 2-3 a day). And when I stepped on the scale a couple of mornings ago..
Lows
We are leaving to go up to St Louis for a week on Wednesday, and my oldest kid is sick. AGAIN. She's always sick. Right now it's an off and on again fever, and a bad cough. I'm doing meds, a humidifier, Vicks vapor rub, hot tea with honey, trying to nip it in the bud. (Ha ha, small "I told ya so" moment. I always say "nip it in the bud" and hubby kept trying to tell me it's "nip it in the butt". I just looked it up on the internet, and I was totally right. Booyah)
I didn't get the giveaway winner's tray finished like I hoped. Got busy working on a project for Craftermind's that is due ASAP. Sorry LP, feel free to unfollow me and tell me I suck.
Being an adult means you can't smack someone, as much as they deserve it. Nuff said.
So another awesomesauce week where the highs outnumbered the lows.